Nintendo Switch and Pokémon bolster GameStop's first quarter
Added: 26.05.2017 0:15 | 1 views | 0 comments



GameStop reported $2.05 billion in sales today at the end of its first quarter of 2017, exceeding expectations due to the high sales of the Nintendo Switch hybrid home-portable console and collectibles like Pokémon cards. Sales of new software dipped by 8.2 percent in contrast to the uptick of new hardware, which increased 24.6 percent ...]
DLC Prices Worry Gamers as Gambling Industry thrives on Free Content
Added: 23.05.2017 9:49 | 3 views | 0 comments


There was once a time to when buying a video game disk or cartridge meant getting the finished article, fast forward to the present day with all the changes to the video game industry, and we see that is no longer the case. Streaming services and downloadable content (DLC) mean that our favourite titles are never complete but ever evolving as more fresh content is released or added to the original. To those not in the know, DLC are a little different to sequel games, and are more like extra challenges, storylines, characters or costumes that players have to pay for. The issue is that many gamers now feel that developers are holding back original content to increase revenues by selling it as DLC at a later date. Many DLC releases are priced at a percentage of the retail cost of the initial release, but some may come at a premium, not to mention the increasing use of in-game micro-transactions. These extra costs are worrying for cash strapped gamers and to some comes as a surprise at a time when other aspects of the gaming industry, such as online gambling, are seeing player numbers thanks to operators offering services largely based on free content. The Rise and Rise in DLC Costs As with many things in life, not everyone is happy when change occurs, but current trends would seem to imply that video gamers have good reason to complain about the rising cost of DLC releases. One astonishing example that stands out is the fact that the upcoming 3DS game Fire Emblem: Shadow of Valencia Echoes from Nintendo will have DLC content will cost more than the base game's price! Contrast this to the common practice of online casino and bingo sites with free sign up bonus and the magnitude of the issue at hand becomes clear. However, there are many factors that can also be cited in mitigation on behalf of the developers. For a start, it makes good business sense to plan for DLC releases further down the road as it keeps fans of the game engaged and loyal. In addition, charging for the new content is also one of the ways that video games developers and publishers can make a living given the issues surrounding online piracy and illegal downloads. The issue is that although video games are now played by all ages, not everyone can afford to fork out premium prices every few months for what is essentially a small part of the same game. Is DLC Content the future of Gaming? As mentioned above, the world is clearly moving away from physical discs for the consumption of music, films, and games. This makes it more certain that DLC releases will remain a part of the gaming industry for the foreseeable future; but if that is the case then more needs to be done. A solution will have to be found to help developers and publishers earn a living off the work they create while ensuring that gamers receive the best value for the content they are paying for. With the online gambling genre currently being the fastest growing sector in the gaming industry there is no reason why lessons cannot be learnt from its model and applied to mainstream video games. The DLC model is clearly being used by some developers as a means to earn revenue through holding back content, but gambling operators are continuing to show that it doesn't have to be that way.
Words of a Generation Singapore: Work
Added: 01.05.2017 4:08 | 4 views | 0 comments


Words of a Generation: Singapore is an intimate window into the thoughts, struggles and hopes of a group that has often been described as the 'in-between' generation in Singapore. This compilation of their personal observations on topics like love, connect, dreams, work and play, and their role in society serves as a stark contrast against the backdrop of many national developments of that period including the two-child policy and the education system as we know it today, as well as rapid technology advancement in their formative years. The '70s generation continues to bridge gaps between the ages, strives to be adaptive and wants to work for change. A guinea pig for technology past, they even describe themselves as counsellors for tomorrow.
Rainbow Six Siege update makes balance tweaks, fixes bugs
Added: 19.04.2017 18:15 | 5 views | 0 comments


Update 2.1.3 arrives today for Rainbow Six Siege, making changes to Glaz, Montagne, and Echo. The update makes tweaks to Glaz's scope to make it easier to know when shots land or miss. Following the update, the noise on the edges of the highlighted enemy has been reduced, lowers the contrast of the teal tint ...]
Narco Road is Ghost Recon Wildlands' first DLC, here's a trailer with silly monster trucks
Added: 19.04.2017 14:40 | 6 views | 0 comments


Narco Road is the inevitable first piece of DLC for Tom Clancy's Ghost Recon Wildlands, and it's got a gaudy new trailer that strikes a very different tone from that we've seen in Wildlands so far.
If you've yet to get in on all the cartel-smashing fun, check out our .
Set to the bouncy beat of Xzibit's 'Runway Walk', the trailer is all sunglasses, gold-plated AKs and monster trucks painted in purple flames. There's even a spotlit sign that's a clear reference to the one in the Hollywood hills. It stands in pretty clear contrast to the way that vanilla Wildlands was marketed, with its focus on Bolivia's beautiful natural scenery and poverty-stricken communities.  
Let's talk about Persona 5's menus
Added: 19.04.2017 8:00 | 9 views | 0 comments


Let's talk about Persona 5's menus, because they're great. Ostentatious, audaciously intricate, the spectacle of their existence defies common wisdom. Traditional design sensibilities suggests that menus should be austere, informative, but Persona 5 has transformed its own into a gallery of kinetic art pieces so visually distinctive they're almost the star attraction.
This choice in gorgeously flamboyant aesthetics is hardly surprising. Katsura Hashino, the game's director, explained that it was intended to reflect Persona 5's central theme: a coming-of-age story focusing on youth going their "own personal way" and rebelling against the world. To emphasise this leitmotif, the game, which has been periodically described with the words "picaresque juvenile," needed a strong graphical style to match.
But that isn't the only reason for Persona 5's striking pop-punk look. Hashino, who also oversaw the creation of Persona 3 and Persona 4, wanted to demonstrate how a simple change of mindset could alter a "boring life" into a "very exciting Phantom Thief life," and to do so, they needed a way to contrast the banality of high-school existence with the more fantastical elements of the game. The user interface became a medium for communicating that idea.
Star Wars Battlefront 2's campaign is penned by Spec Ops: The Line writer Walt Williams
Added: 17.04.2017 11:04 | 5 views | 0 comments


Spec Ops: The Line was pretty good, right? An average third-person shooter elevated by its story: a videogame riff on Joseph Conrad's novel, Heart of Darkness. Set in Dubai, the game was a refreshing change from the usual gung-ho shooters, with a decidedly anti-military take on armed conflict. Well, Star Wars Battlefront 2's single-player story is being co-written by its lead writer, Walt Williams.
If you're a fan of virtual conflict, check out our list of the .
Williams has stated in the past that he thinks videogames can do violence much better. He doesn't believe virtual violence is bad, but he thinks too much of it desensitises us. In other words, violence in videogames is more affecting when used sparingly, or when it's better contextualised. 
Hopefully this means Star Wars Battlefront 2 has its share of quiet moments, in which the exciting space battles and forest-set firefights have something to contrast against. 
8 Nintendo Switch Criticisms That Also Apply To The PS4 & Xbox One
Added: 31.03.2017 16:45 | 10 views | 0 comments


If you've spent any time on the internet since the Nintendo Switch launched, you'll be fully aware of its roster of problems, bugbears and technical issues. That's not to say the system is an out-and-out failure, far from it, but the cultural reception outside of 1.5 million units sold (and counting), has been slightly tepid at best. Contrast this to where Sony and Microsoft are at right now (though it feels as though the latter have fallen down a well), and there's a demonstrable difference between hardware specs, available bodies of titles, exclusives and everything in between. It's a gap so great, the vibe surrounding the Switch is one of isolation - Nintendo are clearly happy to operate on their own little island, not caring one jot about truly competing with the 'big boys', despite the Switch having better third-party support than the Wii U ever had.
TheMansion v1.83 patch
Added: 30.03.2017 10:58 | 9 views | 0 comments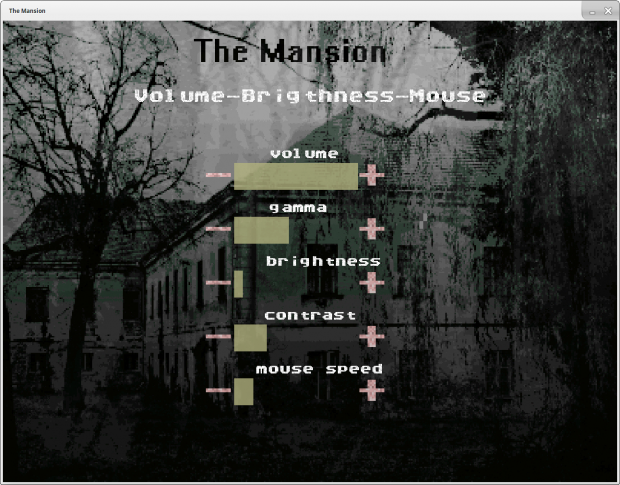 this patch add some features to the menu, including brightness, gamma, contrast and mouse speed.
Four years later, Xbox exec admits how Microsoft screwed up disc resale plan
Added: 30.03.2017 4:48 | 9 views | 0 comments


Ars Technica: Compare and contrast with Mehdi's marketing push for the plan back in 2013.
Older articles

»