First party games are "critical" for the launch of the Xbox Scorpio
Added: 28.03.2017 8:30 | 1 views | 0 comments



Microsoft needs to kick off their E3 presence with a big bang this year if they want to keep the fans invested. With the Xbox Scorpio, they might have the right platform to do so as they peddle out a console that has enough hardware to give anyone a technolust boner. Hardware that will have some pretty decent software to give you some stiffware according to Xboss Phil Spencer.

Xbox boss hints at big first-party games on the horizon
Added: 27.03.2017 21:00 | 1 views | 0 comments


Microsoft may be bringing some big first-party games to E3 for the launch of the Xbox Scorpio, according to Phil Spencer. While answering fans' questions on Twitter earlier, Spencer stated that having first-party games ready for the Scorpio's launch is "critical." @LosDreamss Having our 1P games ready for Scorpio is critical. — Phil Spencer (@XboxP3) ...]
Destiny 2 officially revealed
Added: 27.03.2017 19:56 | 1 views | 0 comments



Rumours about Destiny 2 being imminently revealed have been floating around for about a week now, and with Activision confirming the sequel would be hitting shelves this year back in February in their Fourth Quarter 2016 results, it's no surprise to finally see something official. Destiny 2 was announced a couple of hours ago (at time of writing) with a rather unceremoniously posted image on the official Destiny Twitter. Details on the sequel unfortunately end there, but E3 is fast approaching so we won't have long to wait until we find out what's next for the FPS MMO.

Five Insane Sony E3 2017 Predictions That Could Happen For The PS4
Added: 27.03.2017 19:44 | 2 views | 0 comments


ThisGenGaming says "E3 2017 is fast approaching and we can't stop thinking what will happen at each conference. Sony's however could be one of the best they have ever done, so here's five crazy predictions for their E3 2017 offerings."
Nintendo has 'big' plans for this year's E3
Added: 27.03.2017 19:30 | 1 views | 0 comments


Nintendo has big plans for this year's E3, according to Nintendo of America president Reggie Fils-Aimé. At last year's E3, Nintendo didn't have much to show. The Switch was still kept under wraps, Pokémon Sun and Moon were on the horizon, most of the booth was dedicated to The Legend of Zelda: Breath of the ...]
This year's Xbox E3 press conference will spend 'more time' on games
Added: 27.03.2017 19:00 | 1 views | 0 comments


Microsoft is turning its focus back towards games for this year's E3. On Twitter, Xbox boss Phil Spencer promised that more of the company's stage time will be spent on games, rather than hardware, outside programs, or UI upgrades. @mosTears I want to give our games more time on stage at E3, I sometimes feel ...]
Nintendo promises 'big E3', new IP, and 'unconventional' games
Added: 27.03.2017 14:55 | 2 views | 0 comments


It looks like Nintendo are planning to announce a lot of new games at E3 in June, but not too many sequels…
Xbox Boss Wants "To Give Our Games More Time" at E3
Added: 27.03.2017 12:54 | 0 views | 0 comments


Phil Spencer talks about not rushing through games at E3.
This year's E3 is going to be a BIG one for Nintendo
Added: 27.03.2017 12:21 | 1 views | 0 comments


It may still be a few months until E3 comes about, but that doesn't mean Nintendo can't start bragging about it ahead of time. 
According to Reggie Fils-Aime, president of Nintendo America, we can expect to see 'a big E3' this time around. With the Switch recently launched, that's hardly surprising, but an interview with Fox News over the weekend suggested that there'll be plenty of reveals to show off for both the Switch and 3DS come July. 
"E3 is always a big time for Nintendo. We look at each E3 as a unique opportunity to tell our story - and we're going to have a big E3 this year. We're going to be showcasing a variety of games, we'll have experiences for consumers (who'll be able to attend the show for the very first time), so I'm not going to tell you all of the various games and all of our little secrets for E3.
Reggie Fils-Aimé Promises "A Big E3" For Nintendo This Year
Added: 27.03.2017 10:45 | 1 views | 0 comments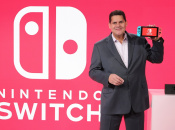 "E3 is going to be a major opportunity for us"