GamesBeat weekly roundup: Inside Call of Duty: WWII's multiplayer, and Pokémon Go gets Raid fights
Added: 23.06.2017 17:27 | 0 views | 0 comments



Hello, and welcome to another GamesBeat weekly roundup! This time, Final Fantasy XIV suffered a DDos (distributed denial-of-service) attack, Blizzard announced plans to make duplicate item drops in Overwatch and Hearthstone less of a pain, and Injustice 2 got off to a strong sales start. Enjoy, and have a great weekend! Pieces of flair and ...]
Final Fantasy 14 Director: Xbox One and Switch Versions Should Have Cross-Platform Play
Added: 23.06.2017 15:47 | 0 views | 0 comments


Director discusses hurdles facing the MMO.
Square Enix Has Been 'Tenacious' in Ongoing Conversations About Final Fantasy XIV on Switch
Added: 23.06.2017 15:35 | 1 views | 0 comments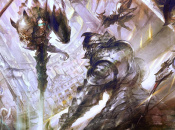 "We've been trying to keep at it"
From:
www.nintendolife.com
Green Flag To Final Fantasy XIV For Switch And Xbox One If Cross-play Is Possible, Says Director
Added: 23.06.2017 14:31 | 1 views | 0 comments



Naoki Yoshida Final Fantasy XIV Director says Final Fantasy XV will come on Nintendo Switch and Xbox One if cross-play is possible.
How The Final Fantasy XIV Team Picks New Jobs And Creates Minions
Added: 23.06.2017 12:47 | 2 views | 0 comments


Siliconera met with Final Fantasy XIV producer and director Naoki Yoshida to talk about how the team created the Red Mage class, how new jobs are chosen for expansions like Stormblood, and the Odder Otter.
Final Fantasy XIV: Stormblood - Susano Normal
Added: 23.06.2017 1:59 | 1 views | 0 comments


In this video we show you how to take down Susano Normal Mode in Final Fantasy XIV: Stormblood. For more on the game, check out our wiki @ http://www.ign.com/wikis/ff14
Final Fantasy XIV: Stormblood - Sirensong Sea Dungeon
Added: 23.06.2017 1:59 | 0 views | 0 comments


In this video, we walk you through Sirensong Sea, the first dungeon in FFXIV: Stormblood. For more on the game, check out our wiki @ http://www.ign.com/wikis/ff14
Final Fantasy XIV: Stormblood - Susano Normal
Added: 23.06.2017 1:55 | 1 views | 0 comments


In this video we show you how to take down Susano Normal Mode in Final Fantasy XIV: Stormblood. For more on the game, check out our wiki @ http://www.ign.com/wikis/ff14
Final Fantasy XIV: Stormblood - Sirensong Sea Dungeon
Added: 23.06.2017 1:55 | 0 views | 0 comments


In this video, we walk you through Sirensong Sea, the first dungeon in FFXIV: Stormblood. For more on the game, check out our wiki @ http://www.ign.com/wikis/ff14
Final Fantasy XIV: Stormblood - Susano Normal
Added: 23.06.2017 0:50 | 2 views | 0 comments


In this video we show you how to take down Susano Normal Mode in Final Fantasy XIV: Stormblood. For more on the game, check out our wiki @ http://www.ign.com/wikis/ff14