'Kerbal Space Program' expansion has you making your own missions
Added: 20.03.2017 23:47 | 3 views | 0 comments


This first add-on also includes recreations of real-life space trips.
Kerbal Space Program gets its next big update with the Making History expansion
Added: 18.03.2017 11:33 | 3 views | 0 comments


Having developed Kerbal Space Program into the top little green man space mission simulator, Squad are looking to further enrich the KSP experience with more content and chances for player expression. Thanks to the recent release of 1.2.2, Squad are now comfortable to release the game's first major expansion.
For more cosmic adventures, check out our list of the best .
Titled "", this expansion adds the new Mission Builder and History Pack to Kerbal Space Program, giving aspiring astronauts the ability to both create and play through historic space missions. The Mission Builder allows players to craft their own space missions and then share them with the community.
Kerbal Space Program is getting its first ever expansion, called Making History
Added: 17.03.2017 21:16 | 0 views | 0 comments


The add-on includes a mission builder, scoring, and a series of missions based on real-world history.
Crescent Loom Kickstarter Campaign Underway, First Trailer and Screens
Added: 04.02.2017 14:49 | 14 views | 0 comments


Kerbal Space Program meets Spore
Dark side of the MÜN: Kerbal Space Program review - Full Sync Gaming
Added: 27.01.2017 21:46 | 13 views | 0 comments


Kerbal Space Program is available on Steam, Xbox One, and PS4. Full Sync are reviewing it on Xbox One! Laurence dont have a very logical brain.
Kerbal Space Program Developer Reevaluating Proposed Wii U Port
Added: 26.01.2017 10:30 | 3 views | 0 comments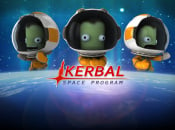 "The industry landscape changed since we made that announcement"
From:
www.nintendolife.com
Grab some bargains in the Xbox Black Friday sale
Added: 19.11.2016 19:43 | 8 views | 0 comments



Black Friday appears to have become a worldwide event in recent years and for Xbox Users it's our chance to take advantage to buy some cheaper games. There is a whole host of stuff available, so why not check the the most recent list below: Black Friday Xbox Digital Game Deals      Xbox One Deals CONTENT TITLE CONTENT TYPE DISCOUNT NOTES ARK: Scorched Earth (Game Preview) Add-On 15% – 25% Black Friday ARK: Survival Evolved (Game Preview) Xbox One Game 40% – 50% Black Friday Assassin's Creed IV Black Flag Xbox One Game 60% – 67% Black Friday Assassin's Creed Syndicate Xbox One Game 50% – 60% Black Friday Assassin's Creed Syndicate Gold Edition Xbox One Game 50% – 60% Black Friday Batman – The Telltale Series – Episode 1: Realm of Shadows Xbox One Game 85% – 100% Black Friday Batman – The Telltale Series – Season Pass (Episodes 2-5) Xbox One Game 25% – 33% Black Friday Batman: Arkham Knight Premium Edition Xbox One Game 40% – 60% Black Friday Batman: The Telltale Series – The Complete Season (Episodes 1-5) Xbox One Game 25% – 33% Black Friday Battlefield 1 Xbox One Game 25% – 33% Black Friday Battlefield 1 Deluxe Edition Xbox One Game 25% – 33% Black Friday Battlefield 1 Ultimate Edition Xbox One Game 10% – 20% Black Friday Battlefield 1 – Titanfall 2 Deluxe Bundle Xbox One Game 30% – 50% Black Friday BioShock: The Collection Xbox One Game 20% – 30% Black Friday Borderlands: The Handsome Collection Xbox One Game 60% – 67% Black Friday Carmageddon: Max Damage Xbox One Game 40% – 50% Black Friday Dangerous Golf Xbox One Game 40% – 50% Black Friday DC Universe Online – Episode Pack I Xbox One Game 40% – 50% Black Friday DC Universe Online – Episode Pack II Xbox One Game 40% – 50% Black Friday DC Universe Online – Episode Pack III Xbox One Game 40% – 50% Black Friday DC Universe Online – Power Bundle (2016) Xbox One Game 40% – 50% Black Friday DC Universe Online – Ultimate Edition (2016) Xbox One Game 40% – 50% Black Friday Deus Ex: Mankind Divided – Digital Deluxe Edition Xbox One Game 40% – 50% Black Friday Deus Ex: Mankind Divided – Digital Standard Edition Xbox One Game 40% – 50% Black Friday DiRT Rally Xbox One Game 50% – 60% Black Friday Dishonored Definitive Edition Xbox One Game 40% – 50% Black Friday DOOM: Hell Followed Add-On 30% – 40% Black Friday DOOM: Unto The Evil Add-On 30% – 40% Black Friday Dragon Age: Inquisition – Game of the Year Edition Xbox One Game 50% – 60% Black Friday Dying Light: The Following – Enhanced Edition Xbox One Game 25% – 33% Black Friday EA SPORTS FIFA 17 Deluxe Edition Xbox One Game 30% – 40% Black Friday EA SPORTS FIFA 17 Standard Edition Xbox One Game 30% – 40% Black Friday EA SPORTS FIFA 17 Super Deluxe Edition Xbox One Game 20% – 30% Black Friday EA SPORTS NHL 17 Xbox One Game 30% – 40% Black Friday EA SPORTS NHL 17 Deluxe Edition Xbox One Game 30% – 40% Black Friday EA SPORTS NHL 17 Super Deluxe Edition Xbox One Game 30% – 40% Black Friday EA SPORTS UFC 2 Xbox One Game 60% – 67% Black Friday EA SPORTS UFC 2 Deluxe Edition Xbox One Game 60% – 70% Black Friday F1 2016 Xbox One Game 35% – 45% Black Friday Far Cry Primal Xbox One Game 50% – 60% Black Friday Far Cry Primal – Apex Edition Xbox One Game 50% – 60% Black Friday Forza Motorsport 6 Deluxe Edition Xbox One Game 25% – 35% Black Friday Forza Motorsport 6 Standard Edition Xbox One Game 40% – 50% Black Friday Forza Motorsport 6 Ultimate Edition Xbox One Game 15% – 25% Black Friday Forza Motorsport 6 VIP Xbox One Game 67% – 75% Black Friday Ghostbusters Xbox One Game 40% – 50% Black Friday Grand Theft Auto V Xbox One Game 40% – 50% Black Friday Grand Theft Auto V & Great White Shark Cash Card Xbox One Game 40% – 50% Black Friday Grand Theft Auto V & Megalodon Shark Cash Card Bundle Xbox One Game 50% – 60% Black Friday Grand Theft Auto V & Whale Shark Cash Card Bundle Xbox One Game 50% – 60% Black Friday Grow Up Xbox One Game 40% – 50% Black Friday HITMAN Intro Pack Add-On 40% – 50% Black Friday HITMAN Upgrade Pack Add-On 40% – 50% Black Friday HITMAN – The Complete First Season Xbox One Game 40% – 50% Black Friday Hyper Light Drifter Xbox One Game 25% – 33% Black Friday INSIDE Xbox One Game 25% – 33% Black Friday Just Cause 3 Xbox One Game 60% – 67% Black Friday Just Cause 3 XL Edition Xbox One Game 60% – 67% Black Friday Just Dance 2017 Xbox One Game 40% – 50% Black Friday Kerbal Space Program Xbox One Game 25% – 33% Black Friday Kinect Sports Rivals Xbox One Game 60% – 67% Black Friday Kingdom: New Lands Xbox One Game 25% – 33% Black Friday LEGO Jurassic World Xbox One Game 40% – 50% Black Friday LEGO Marvel's Avengers Xbox One Game 40% – 50% Black Friday Life is Strange Complete Season (Episodes 1-5) Xbox One Game 60% – 67% Black Friday Livelock Xbox One Game 20% – 30% Black Friday Mad Max Xbox One Game 30% – 40% Black Friday Madden NFL 17 Xbox One Game 30% – 40% Black Friday Madden NFL 17 Deluxe Edition Xbox One Game 30% – 40% Black Friday Madden NFL 17 Super Deluxe Edition Xbox One Game 30% – 40% Black Friday Mafia III Xbox One Game 20% – 30% Black Friday Mafia III Digital Deluxe Xbox One Game 25% – 35% Black Friday Mega Man Legacy Collection Xbox One Game 50% – 60% Black Friday Metro 2033 Redux Xbox One Game 67% – 75% Black Friday Metro Redux Bundle Xbox One Game 70% – 80% Black Friday Metro: Last Light Redux Xbox One Game 67% – 75% Black Friday Middle-earth: Shadow of Mordor – Game of the Year Edition Xbox One Game 35% – 45% Black Friday Mighty No. 9 Xbox One Game 50% – 60% Black Friday Minecraft: Story Mode – Season Pass Deluxe (Episodes 2-8) Xbox One Game 30% – 40% Black Friday Minecraft: Story Mode – The Complete Adventure (Episodes 1-8) Xbox One Game 30% – 40% Black Friday Mirrors Edge Catalyst Xbox One Game 40% – 50% Black Friday NARUTO SHIPPUDEN: Ultimate Ninja STORM 4 Xbox One Game 60% – 67% Black Friday NARUTO SHIPPUDEN: Ultimate Ninja STORM 4 – Deluxe Edition Xbox One Game 60% – 67% Black Friday NBA 2K17 Xbox One Game 20% – 30% Black Friday NBA 2K17 Legend Edition Xbox One Game 25% – 35% Black Friday NBA 2K17 Legend Edition Gold Xbox One Game 30% – 40% Black Friday Necropolis Xbox One Game 25% – 33% Black Friday Oddworld: New 'n' Tasty Xbox One Game 60% – 67% Black Friday ONE PIECE BURNING BLOOD – Gold Edition Xbox One Game 40% – 50% Black Friday One Piece: Burning Blood Xbox One Game 50% – 60% Black Friday Overcooked: Gourmet Edition Xbox One Game 25% – 33% Black Friday Overwatch: Origins Edition Xbox One Game 30% – 40% Black Friday Pool Nation FX Xbox One Game 60% – 67% Black Friday PowerStar Golf – Full Game Unlock Xbox One Game 60% – 67% Black Friday Prototype Biohazard Bundle Xbox One Game 40% – 50% Black Friday Rare Replay Xbox One Game 60% – 67% Black Friday Resident Evil Triple Pack Xbox One Game 30% – 40% Black Friday Rise of the Tomb Raider Xbox One Game 25% – 33% Black Friday Rise of the Tomb Raider: 20 Year Celebration Xbox One Game 25% – 33% Black Friday Saints Row IV: Re-Elected Xbox One Game 67% – 75% Black Friday Saints Row IV: Re-Elected & Gat out of Hell Xbox One Game 67% – 75% Black Friday Saints Row Metro Double Pack Xbox One Game 70% – 80% Black Friday Shadow Complex Remastered Xbox One Game 40% – 50% Black Friday Slime Rancher (Game Preview) Xbox One Game 25% – 33% Black Friday SMITE Ultimate God Pack Bundle Xbox One Game 25% – 33% Black Friday Song of the Deep Xbox One Game 40% – 50% Black Friday State of Decay: Year-One Survival Edition Xbox One Game 40% – 50% Black Friday Teenage Mutant Ninja Turtles: Mutants in Manhattan Xbox One Game 40% – 50% Black Friday The Crew Xbox One Game 60% – 67% Black Friday The Jackbox Party Pack 3 Xbox One Game 25% – 33% Black Friday The Telltale Games Collection Xbox One Game 67% – 75% Black Friday The Witcher 3: Wild Hunt Xbox One Game 40% – 50% Black Friday The Witcher 3: Wild Hunt – Blood and Wine Add-On 15% – 25% Black Friday The Witcher 3: Wild Hunt – Complete Edition Xbox One Game 40% – 50% Black Friday The Witcher 3: Wild Hunt – Hearts of Stone Add-On 15% – 25% Black Friday This War of Mine: The Little Ones Xbox One Game 60% – 70% Black Friday Titanfall 2 Xbox One Game 30% – 40% Black Friday Titanfall 2 Deluxe Edition Xbox One Game 30% – 40% Black Friday Tom Clancy's Rainbow Six Siege Xbox One Game 40% – 50% Black Friday Tom Clancy's Rainbow Six Siege Gold Edition Xbox One Game 40% – 50% Black Friday Tom Clancy's The Division Xbox One Game 30% – 40% Black Friday Tom Clancy's The Division Gold Edition Xbox One Game 40% – 50% Black Friday Tomb Raider: Definitive Edition Xbox One Game 70% – 80% Black Friday Trackmania Turbo Xbox One Game 50% – 60% Black Friday Trials of the Blood Dragon Xbox One Game 40% – 50% Black Friday Valley Xbox One Game 30% – 40% Black Friday Videoball Xbox One Game 40% – 50% Black Friday Wolfenstein: The New Order Xbox One Game 60% – 67% Black Friday Wolfenstein: The Old Blood Xbox One Game 60% – 67% Black Friday World of Tanks – Attack Cats Bundle Xbox One Game 15% – 25% Black Friday World of Tanks – Rare Rivals Bundle Xbox One Game 15% – 25% Black Friday World of Tanks – Target Locked Bundle Xbox One Game 15% – 25% Black Friday WWE 2K17 Xbox One Game 20% – 30% Black Friday WWE 2K17 Digital Deluxe Xbox One Game 30% – 40% Black Friday XCOM 2 Xbox One Game 25% – 35% Black Friday XCOM 2 Digital Deluxe Edition Xbox One Game 30% – 40% Black Friday Please note: actual discounts and availability are subject to change and may vary by region and Xbox Live Account type. Xbox Live Gold Members save up to 10% more off of the discounted sale price.       Xbox 360 Deals NOTE: Updated to reflect current sales. CONTENT TITLE CONTENT TYPE DISCOUNT NOTES A Kingdom for Keflings Arcade 55% – 65% Black Friday A World of Keflings Arcade 55% – 65% Black Friday Alan Wake Games On Demand 55% – 65% Black Friday Alan Wake's American Nightmare Arcade 55% – 65% Black Friday Assassin's Creed III Games On Demand 57% – 67% Black Friday Assassin's Creed IV Black Flag Games On Demand 57% – 67% Black Friday Assassin's Creed Rogue Games On Demand 50% – 60% Black Friday Banjo Kazooie: N and B Games On Demand 55% – 65% Black Friday Banjo-Kazooie Arcade 55% – 65% Black Friday Batman – The Telltale Series – Season Pass Add-On 23% – 33% Black Friday Batman: The Telltale Series Games On Demand 85% – 100% Black Friday Borderlands Games On Demand 60% – 70% Black Friday Bully Scholarship Edition Games On Demand 40% – 50% Black Friday Call of Duty 2 Games On Demand 40% – 50% Black Friday Call of Duty 3 Games On Demand 40% – 50% Black Friday Call of Duty: Black Ops Games On Demand 40% – 50% Black Friday Call of Duty: World at War Games On Demand 40% – 50% Black Friday CAPCOM ARCADE CABINET : ALL-IN-ONE PACK Add-On 50% – 60% Black Friday Castlevania: Symphony of the Night Arcade 55% – 65% Black Friday Dark Souls Games On Demand 65% – 75% Black Friday Dark Souls II Games On Demand 65% – 75% Black Friday Dead Space Games On Demand 57% – 67% Black Friday DEUS EX: HUMAN REVOLUTION Games On Demand 57% – 67% Black Friday Dishonored Games On Demand 57% – 67% Black Friday Doom Arcade 57% – 67% Black Friday Doom 2 Arcade 57% – 67% Black Friday Dragon's Dogma: Dark Arisen Games On Demand 50% – 60% Black Friday DuckTales: Remastered Arcade 65% – 75% Black Friday EA SPORTS FIFA 17 Standard Edition Games On Demand 30% – 40% Black Friday Fable Anniversary Games On Demand 55% – 65% Black Friday Fable II Games On Demand 55% – 65% Black Friday Fable III Games On Demand 55% – 65% Black Friday Fable Trilogy Games On Demand 55% – 65% Black Friday Fallout 3 Games On Demand 57% – 67% Black Friday Fallout: New Vegas Games On Demand 57% – 67% Black Friday Fallout: New Vegas – Dead Money Add-On 30% – 40% Black Friday Fallout: New Vegas – Honest Hearts Add-On 30% – 40% Black Friday Fallout: New Vegas – Lonesome Road Add-On 30% – 40% Black Friday Fallout: New Vegas – Old World Blues Add-On 30% – 40% Black Friday Far Cry 4 Games On Demand 57% – 67% Black Friday FINAL FANTASY XIII-2 Games On Demand 40% – 50% Black Friday Final Fight: Double Impact Arcade 60% – 70% Black Friday Forza Horizon 2 Presents Fast & Furious Games On Demand 65% – 75% Black Friday Grand Theft Auto V Games On Demand 40% – 50% Black Friday Grand Theft Auto: San Andreas Games On Demand 40% – 50% Black Friday GTA IV Games On Demand 35% – 45% Black Friday Halo 3 Games On Demand 40% – 50% Black Friday Halo 3: ODST Campaign Edition Games On Demand 40% – 50% Black Friday Halo 4 Games On Demand 40% – 50% Black Friday Hitman: Absolution Games On Demand 65% – 75% Black Friday Hitman: Blood Money Games On Demand 65% – 75% Black Friday Joy Ride Turbo Arcade 55% – 65% Black Friday Just Cause 2 Games On Demand 57% – 67% Black Friday Just Dance 2017 Games On Demand 40% – 50% Black Friday L.A. Noire Games On Demand 50% – 60% Black Friday Lara Croft and the Guardian of Light Arcade 65% – 75% Black Friday LEGO Batman 3: Beyond Gotham Games On Demand 50% – 60% Black Friday LEGO Jurassic World Games On Demand 40% – 50% Black Friday LEGO Marvel's Avengers Games On Demand 30% – 40% Black Friday LEGO Star Wars: The Force Awakens Games On Demand 30% – 40% Black Friday Lost Planet Colonies Games On Demand 50% – 60% Black Friday Madden NFL 17 Games On Demand 30% – 40% Black Friday Mafia II Games On Demand 65% – 75% Black Friday Mass Effect Games On Demand 55% – 65% Black Friday Metro 2033 Games On Demand 75% – 85% Black Friday Metro: Last Light Games On Demand 75% – 85% Black Friday Middle-earth: Shadow of Mordor Games On Demand 35% – 45% Black Friday Midnight Club: LA Games On Demand 40% – 50% Black Friday Minecraft: Story Mode – Adventure Pass (Additional Episodes 6-8) Add-On 30% – 40% Black Friday Minecraft: Story Mode – Season Pass Add-On 30% – 40% Black Friday Minecraft: Story Mode – Season Pass Deluxe (Episodes 2-8) Add-On 30% – 40% Black Friday Mirrors Edge Games On Demand 57% – 67% Black Friday NARUTO SHIPPUDEN: Ultimate Ninja STORM Revolution Games On Demand 65% – 75% Black Friday NBA 2K17 Games On Demand 25% – 35% Black Friday NBA JAM: On Fire Edition Arcade 57% – 67% Black Friday Oblivion Games On Demand 57% – 67% Black Friday Portal: Still Alive Arcade 55% – 65% Black Friday Quake Arena Arcade Arcade 57% – 67% Black Friday Red Dead Redemption Games On Demand 40% – 50% Black Friday Resident Evil Operation Racoon City Games On Demand 65% – 75% Black Friday RESIDENT EVIL REVELATIONS Games On Demand 65% – 75% Black Friday Rise of the Tomb Raider Games On Demand 30% – 40% Black Friday Saints Row Games On Demand 65% – 75% Black Friday Saints Row 2 Games On Demand 65% – 75% Black Friday Saints Row IV Games On Demand 75% – 85% Black Friday Saints Row: The Third Games On Demand 65% – 75% Black Friday Skate 3 Games On Demand 40% – 50% Black Friday Sleeping Dogs Games On Demand 65% – 75% Black Friday SOULCALIBUR II HD Arcade 65% – 75% Black Friday SOULCALIBUR Ⅴ Games On Demand 65% – 75% Black Friday South Park: The Stick of Truth Games On Demand 50% – 60% Black Friday SSX Games On Demand 65% – 75% Black Friday Strider Arcade 50% – 60% Black Friday Tekken Tag Tournament 2 Games On Demand 65% – 75% Black Friday The Witcher 2: Assassins of Kings Enhanced Edition Games On Demand 65% – 75% Black Friday Tomb Raider Games On Demand 65% – 75% Black Friday Tomb Raider Underworld Games On Demand 65% – 75% Black Friday Trials Evolution Arcade 55% – 65% Black Friday Trials Fusion Arcade 65% – 75% Black Friday Trials HD Arcade 55% – 65% Black Friday Watch Dogs Games On Demand 65% – 75% Black Friday Wolfenstein 3D Arcade 57% – 67% Black Friday World of Tanks – Attack Cats Bundle Add-On 15% – 25% Black Friday World of Tanks – Rare Rivals Bundle Add-On 15% – 25% Black Friday World of Tanks – Target Locked Bundle Add-On 15% – 25% Black Friday WWE 2K17 Games On Demand 25% – 35% Black Friday XCOM: Enemy Within Games On Demand 70% – 80% Black Friday

Tags:
Xbox One
,
Lego Star Wars: The Force Awakens
,
Batman
,
Overwatch
,
DOOM
,
Resident Evil
,
Grand Theft Auto
,
The Division
,
TrackMania Turbo
,
Shadow Complex Remastered
,
Alan Wake
,
Xbox 360
,
Hitman: Absolution
,
XCOM 2
,
Titanfall 2
,
Capcom
,
Batman: Arkham Knight
,
Far Cry Primal
,
Mega Man
,
Minecraft
,
GTA
,
EA Sports UFC 2
,
EA Sports
,
PC
,
Rise of the Tomb Raider
,
Just Cause 3
,
Ark: Survival Evolved
,
Marvel
,
Carmageddon: Max Damage
,
Minecraft: Story Mode
,
DiRT Rally
,
Battlefield
,
Call of Duty
,
Tomb Raider
,
Dark Souls
,
Red Dead Redemption
,
Fallout 3
,
Metro 2033
,
Dying Light: The Following
,
FIFA 17
,
Hitman Intro Pack
,
Mutants in Manhattan
,
Watch Dogs
,
IGN
,
Hitman
,
Grand Theft Auto V
,
SMITE
,
The Witcher 3: Wild Hunt
,
Dying Light
,
South Park: The Stick of Truth
,
Kerbal Space Program
,
Fallout: New Vegas
,
Far Cry 4
,
iOS
,
Naruto Shippuden
,
Dead Space
,
Sleeping Dogs
,
Saints Row IV
,
Wolfenstein: The Old Blood
,
Evolve
,
Lego Batman 3: Beyond Gotham
,
Wolfenstein: The New Order
,
Metro: Last Light
,
Lara Croft and the Guardian of Light
,
Mafia III
,
Call of Duty: Black Ops
,
Final Fantasy
,
Shadow of Mordor
,
LEGO Marvel's Avengers
,
Assassin's Creed IV
,
Hyper Light Drifter
,
Life is Strange
,
Metro Redux
,
Borderlands: The Handsome Collection
,
Dragon Age: Inquisition
,
Mad Max
,
Tomb Raider: Definitive Edition
,
Trials Evolution
,
Forza Motorsport 6
,
Apex