Half-Life PS2 Standalone 1.1.1 Español
Added: 22.06.2017 17:53 | 2 views | 0 comments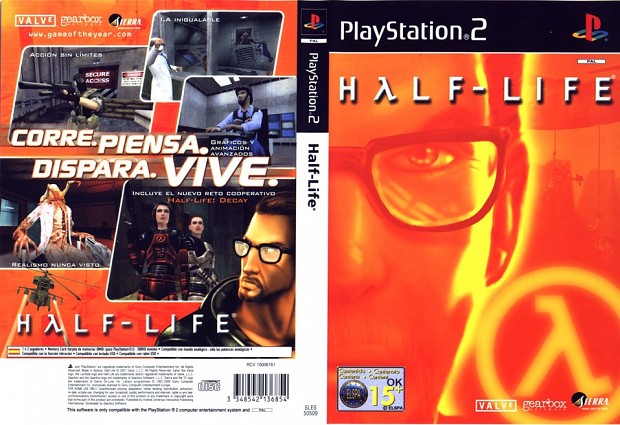 Nuevo release Half&-Life PS2 Port 1.1 con audio en Español completamente Standalone usando como base la version Demo del Half&-Life Uplink corriendo bajo Xash Audio, textos y mapas 100% ripeado del disco original del Half&-Life de PlayStation 2 En este release se incluye el Hotfix que arregla algunos bugs menores y el fix para el intro del juego Bugs Conocidos : &-Pista de Entrenamiento (Map t0a0) : no funciona correctamente debido al sistema de AutoAim que incluye la version de PS2 , ante cualquier inconveniente (sv_cheats 1 &- restart &- Noclip) &-c3a2d : El cientifico no abre la puerta! desconozco completamente el porque (noclip y listo)
Why Monster Hunter Worlds shift to PS4 and Xbox One is essential for the survival of the series
Added: 14.06.2017 23:46 | 4 views | 0 comments


When Monster Hunter World was properly announced, and upon learning that it would be available not just for PS4 but Xbox One and PC as well, anticipation turned to ecstasy. A current generation Monster Hunter game on a full-blooded home console (and not a slightly behind the curve Nintendo platform) has been a dream of hunter fans for years. After the original and its sequel launched on PlayStation 2 back in 2004, Monster Hunter languished on the PlayStation Portable, 3DS, and Wii/Wii U for more than a decade. While many of these iterations were excellent games, they always felt like they were straining at the leash. You could see the seams and limitations of the hardware, and the gaps set the imagination on fire, thinking of what would be possible with this potent formula on a modern console.
Shadow of the Colossus Trailer Comparison: 2005 vs. 2017
Added: 14.06.2017 23:34 | 3 views | 0 comments


We compare the surprise reveal trailer for the fully remastered Shadow of the Colossus to the original PlayStation 2 trailers from 2005.
Modernizing While Remaining Faithful
Added: 14.06.2017 16:42 | 11 views | 0 comments


Following the prequel entry, , the popular series is going back to its roots once again with Yakuza Kiwami, a full remake of the original Yakuza title from PlayStation 2.
In the 10 years that have passed since the events of Yakuza 0, much has changed. Kazuma Kiryu has returned to the streets to discover that his city has gone to hell. To top it all off, Goro Majima has seemingly gone off the deep end and is hunting him down, popping out where you least expect him. I encountered Majima twice in my time with Kiwami; he jumped out of a manhole one time, while he snuck up on me in a crowded street another. Majima is the master of multiple fighting styles, so both battles with him were drastically different.
Yakuza Kiwami brings the debut entry of the game to the current generation of consoles using the Yakuza 0 engine. That means that not only are the visuals more modern than the original, but it also plays better. The visuals are nearly indistinguishable from Yakuza 0, which released in North America earlier this year. Players will also notice new side activities to participate in.
Despite these upgrades, Kiwami doesn't neglect its PlayStation 2 roots. While I didn't see it during my time, the team tells me that strange moments that players remember from the PS2 version, such as a cinematic where a character's neck moves in an unnatural way, have been preserved to make it as authentic an experience as possible.
As someone who has always wanted to get into the Yakuza series, but has been afraid to jump into the middle of the saga, 2017 has been a blessing. Not only did I get the great Yakuza 0 (which I'm still working through), but I'm also getting a remake of the original Yakuza game that is the next chronological title in the storyline.
I'm looking forward to playing Yakuza Kiwami when it launches on PlayStation 4 on August 29.
From:
www.gameinformer.com
.hack//G.U. remaster trilogy is coming to PC
Added: 13.06.2017 22:38 | 4 views | 0 comments


Bandai Namco is bringing the second wave of PlayStation 2 .hack//G.U. RPGs to PC for Japanese gamers.
If you're craving more role-playing than you can shake a stick at, check out our list of the .
The games are coming as a bundle of HD remasters to PC and PlayStation 4 as .hack//G.. Last Recode, though a western release has yet to be confirmed. To clarify, these aren't part of the original four .hack titles including .hack//Infection, .hack//Mutation, .hack//Outbreak, and .hack//Quarantine. These titles are based on a second, separate trilogy, all spawning from the anime series .hack//Sign.
Relive The Birth Of Yakuza With Yakuza Kiwami
Added: 13.06.2017 19:30 | 5 views | 0 comments


The 2005 PlayStation 2 title that put the Yakuza franchise on the map is back in an all-new HD remake exclusive to PlayStation 4.
After Yakuza 0 resonated with audiences here in the west, it's not surprising that more Yakuza is on the way. Yakuza Kiwami adds a considerable amount of content to the original game outside of just pure visuals and technical upgrades, such as more story, tons of side quests, and updated combat.
As with what has become a franchise staple, there are a ton of mini-games and side pursuits that you can take on during your journey, such as bowling, darts, or yes, even a bizarre fighting game that features scantily-clad women battling dressed up as bugs. Kazuma Kiryu (beloved series protagonist) is ready to take on Kamurocho yet again with physical and digital releases. And why not pick up a motorcycle or anything not nailed down and pummel your opponents senseless with them? Everything is over-the-top!
The title also features a re-recording of the original Japanese dialog for those that want the "pure" experience!
If you're interested in exploring this journey of power, betrayal, sacrifice, and ridiculous side games, Yakuza Kiwami hits on August 29. Check out the Yakuza Kiwami E3 trailer below!
(Please visit the site to view this media)
From:
www.gameinformer.com
Shadow of the Colossus is back
Added: 13.06.2017 2:29 | 2 views | 0 comments



Sony revealed that it is bringing Shadow of the Colossus to the PlayStation 4. The publisher showed off Shadow of the Colossus for PlayStation 4. This is a remaster that takes the same giant beasts and action from the PlayStation 2 original and updates it with modern visuals. It is due out in 2018 for ...]
Shadow of the Colossus is back
Added: 13.06.2017 2:29 | 28 views | 0 comments



Sony revealed that it is bringing Shadow of the Colossus to the PlayStation 4. The publisher showed off Shadow of the Colossus for PlayStation 4. This is a remaster that takes the same giant beasts and action from the PlayStation 2 original and updates it with modern visuals. It is due out in 2018 for ...]
Older articles

»